Free "Keep Connected" Zoom Series (5/6-27)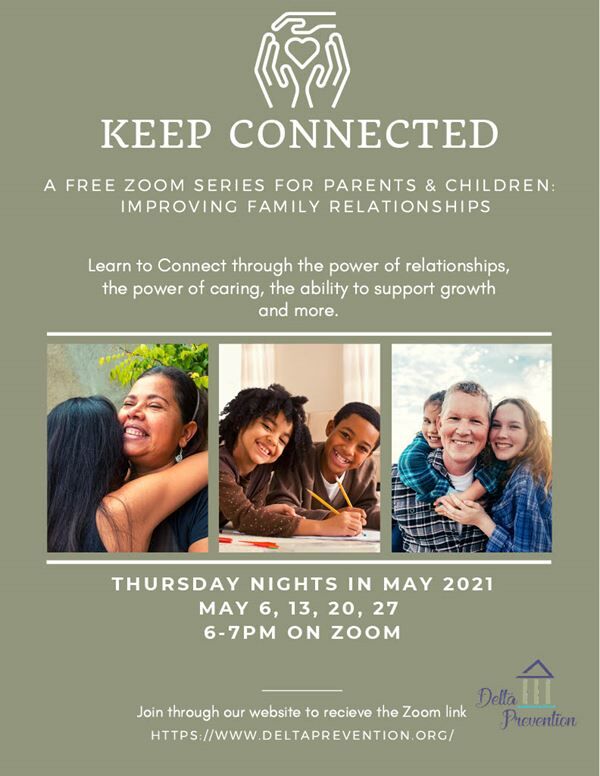 6:00 PM on Thursday, May 6 - 7:00 PM on Thursday, May 27
Delta Prevention, a local nonprofit that strengthens families by providing FREE family strengthening courses, will host a "Get Connected" Free Zoom Series for parents & children to help improve family relationships on Thursday Nights on May 6, 13, 20 & 27 (6-7PM). Keep Connected Online is a 4-session workshop series for families with youth in the middle school years (ages 10 to 15) that is designed to be offered remotely by schools and organizations to the families they serve. The four 60-minute sessions (1. Thriving Through the Teenage Years: The Power of Family Relationships 2. The Power of Caring and Caring about Power 3. In the Zone: Challenge and Support Growth 4. New Possibilities for Our Family and the Future) are based on Search Institute's Developmental Relationships Framework) and other scholars that shows that, among other things, strong family relationships to:
• Boost motivation and other commitments foundational to learning, achievement, and well-being
• Cultivate the social and emotional strengths young people will use throughout their lives
• Protect young people from high-risk behaviors, including substance abuse, violence, and premature sexual activity
• Foster resilience in young people who have experienced significant challenges or trauma
• Help youth and parents navigate transitions, including the transition from childhood into adolescence.
Keep Connected offers initial evidence that the program enhances: • Parent-youth relationships; • Family communication; • Youth responsibility; • Student motivation to learn; and • Supportive community of families for families. To sign up the this special Zoom series, go to DeltaPrevention.org.