MLK Community Gathering & Celebration (1/16)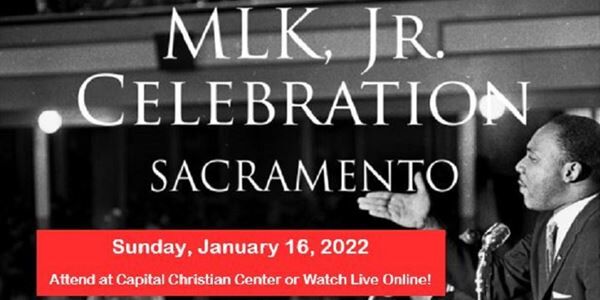 5:30 - 7:00 PM on Sunday, January 16, 2022
Over 2,000 people from over 30 churches will come together for a night to celebrate the progress we have already made and to be challenged to work toward greater racial reconciliation and harmony at Sacramento's 27th annual MLK Celebration on Sunday, January 16th (5:30-7:30PM) at Capital Christian Center (9470 Micron Avenue, Sacramento). This special event will also be live-streamed at http://mlksacramento.com/.
• Keynote guest speaker is Gregory Campbell, Ph.D., a Diversity, Equity, and Inclusion Solutions Architect, and successful with frontline, mid-level, and senior-level executives and managers due to more than 25 years of diversified experience in leading highly complex federal governmental organizations. Gregory also has been involved in ministry at various churches for over 30 years, including serving as ministry leader for men's, marriage, and youth mentoring ministries. He has a MA in Behavioral Science with a specialization in Negotiation and Conflict Management, and a PhD in Management from Walden University with specialization in Leadership and Organizational Change. He is certified in Diversity and Inclusion from Cornell University, and has published articles in the Journal of Social Change and Organizational Cultures: An International Journal.
• Inspirational Music by the MLK Celebration Choir (a city-wide, multi-cultural choir led by Pastors Tecoy and Ellington Porter)
• "Difference Maker" awards given to individuals for their faith and service in the Sacramento (for "service and advocacy" and "programs for children", AND College scholarships will be awarded to Sacramento area youth.
For more information, please visit http://mlksacramento.com/.
Location:
Capital Christian Center
9470 Micron Ave
Sacramento, CA 95827
Google Map