Destination Spotlight - Flagstaff, AZ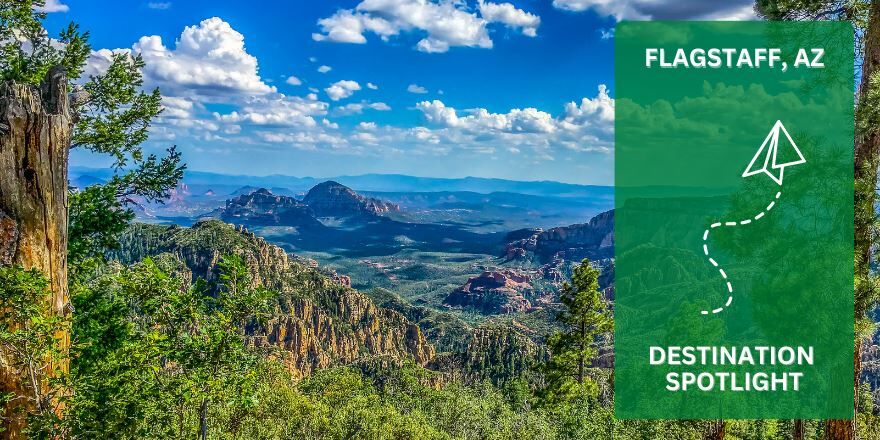 When people think of Arizona they picture saguaro cactuses and rolling tumbleweeds. The last thing they think of is some of the best skiing and snowboarding in the Southwest. That may be because you've never been to the Northern Arizona gem of Flagstaff. Flagstaff is the perfect place to base your Northern Arizona vacation from. Why? Because it's centrally located to all of the best that region of the 48th state has to offer. From Flag (as it's affectionately called by locals) you can quickly get to Meteor Crater, Montezuma's Castle, and yes… The Grand Canyon itself. The best part is you don't have to pop a tent to enjoy these natural wonders. Flag is ready for the modern tourist, featuring restaurants with mouth-watering menus, four-star hotels, and enough local breweries to make any beer lover happy.

Families
If your family likes to pull on snow pants and hit the fresh powder then Flagstaff is the place for you - take a jaunt to the Arizona Snowball and see for yourself. In the mood for some low-key adventure? Take your family deep beneath the earth and witness the Lava Tubes - all-natural tunnels carved through the crust by ancient red-hot lava. If you really want the kiddos to be happy take them to Bear Paw Activities Center for swimming, putt-putt golf, and more!

Peak Season
Well, it's right now! The snow is still coming down and the locals couldn't be more welcoming. However, if you're looking for a way to beat the heat during the long and dry Arizona summer, then you've found your oasis. The weather is always cooler in Flag. What are you waiting for?

Duration
Three days ought to do it to get all you need (and all you can handle) from this college town/snow sports paradise.

Lodging Options
La Quinta by Wyndham Flagstaff, Doubletree by Hilton, or, my favorite, Little America Flagstaff Hotel should have you lounging in style. There are also gorgeous cabins for rent through VRBO or Air BnB.

Visitor Guide
If the giant mountain covered in snow doesn't give you a hint, you can always request the official and FREE Flagstaff visitor guide here.
Download the free visitor guide here: FREE Visitor Guide