Prayer of All Kinds - Truth For Life - June 6
Crosswalk.com

… Praying at all times in the Spirit, with all prayer and supplication.
Prayer should never become a routine experience any more than it should be a rare occurrence. There is never a circumstance in which we are not called to pray. Scripture shows us that sometimes we cry out to God from the darkness (for instance, Psalm 88); at other times we pour out to God our joyful praise over the resplendent majesty of Christ (for instance, Revelation 5:12-14)—and oftentimes we find ourselves somewhere in between.
In Ephesians 6:18, Paul encourages us to come to God (as the NIV puts it) "with all kinds of prayers and requests." We do not always need to say everything, but it is wise not always to say the same thing. So, what might it look like in practice to speak to our Father about "all kinds" of things? The acronym ACTS serves as a simple and useful memory aid for remembering different kinds of prayer:
A — Adoration: We can come to God and just revel in His greatness. "Magnify the LORD with me, and let us exalt his name together!" (Psalm 34:3). There are an infinite number of reasons to praise God, not only or primarily for what He has done but also for who He is. God is perfect in every way, and so God is worthy of our adoration.
C — Confession: We should recognize in prayer that, as Martin Luther said, repentance is not something that should only be triggered by particular instances of sin but rather should be a daily experience: "When our Lord and Master Jesus Christ said, 'Repent,' he willed the entire life of believers to be one of repentance."[1] "I am a man [or woman] of unclean lips," we might confess with Isaiah, "and I dwell in the midst of a people of unclean lips" (Isaiah 6:5). God is worthy of our honest confession.
T — Thanksgiving: The real test for our hearts is what we say and pray when there doesn't appear to be much to be thankful for. Paul exhorts us, "Give thanks in all circumstances" (1 Thessalonians 5:18, emphasis added)—including those we would never have chosen. We are not called to thank Him for all things, but we are to remember that there are always reasons to thank Him, even in the hardest of times.
S — Supplication: It is right to express our needs to our heavenly Father, from whom "every good gift and every perfect gift" comes (James 1:17) and who knows exactly what His children need (Matthew 6:8). We ask, seek, and knock (7:7)—sometimes for big things, sometimes for small ones. Whatever we ask for, God is worthy of our supplication.
Scripture encourages us and guides us to pray in all manner of ways. And when, among all these options, we can't seem to find the right words, we have no cause for despair. Whatever kinds of prayers and requests we can muster—or can't—the Spirit of our Lord Jesus always "intercedes for us with groanings too deep for words" (Romans 8:26). God is eager to hear you. So pray!
As a thank-you from us for your gift, we'll send along this month's resource: How Christianity Transformed the World by Sharon James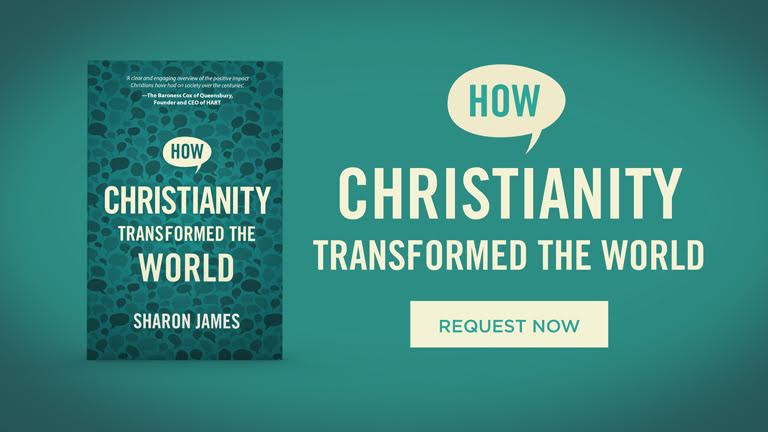 Click here to learn more about Truth For Life
Devotional material is taken from the Truth For Life daily devotional by Alistair Begg, published by The Good Book Company, thegoodbook.com. Used by Truth For Life with permission. Copyright © 2021, The Good Book Company.